Here I give you some simple tips and tricks to creating the most delicious fried egg sandwich imaginable!
I know, how hard can a fried egg sandwich really be?! I mean it is horrendously simple, BUT, there are a few opportunities to take this sandwich through the roof. Ready to make a killer fried egg sandwich? Follow me…
How to make the perfect Fried Egg
All good fried egg sandwiches start with the perfect fried egg, and all perfect fried eggs start with bacon fat. Hey, I don't make the rules! Plus a fried egg sandwich without bacon is upsetting.
Low 'n' Slow
The best way to cook bacon for this recipe is low and slow because you want to render out as much of the fat as possible. This will not only give a great base to begin frying the eggs, but it'll also carry over that gorgeous flavour into the eggs.
Best egg to make a fried egg?
Alright, bacon grease in the pan, let's talk eggs. Essentially you're looking for two things. First is that the egg is as fresh as possible. This will keep the egg white more compact when you crack it into the pan. Older eggs will go thin and spill across the pan. Second is ensure it's at room temp. Not a deal breaker, but I find it helps the egg cook more evenly.
Baste in butter!
Once you've cracked the eggs into the pan add in a knob of butter. Use this along with the bacon fat to baste the egg whites. This will not only ensure they cook evenly, but will also wrap them in gorgeous bacon/buttery goodness. A lot of recipes call for a lid to be put on the pan in order to cook the eggs on top, but basting them is, in my opinion, a far superior method.
I recommend cooking eggs two at a time unless your pan is huge, just to ensure you've got room to melt in the butter and baste. Once they're cooked to your liking, remove and toast your bread in all the greasy goodness.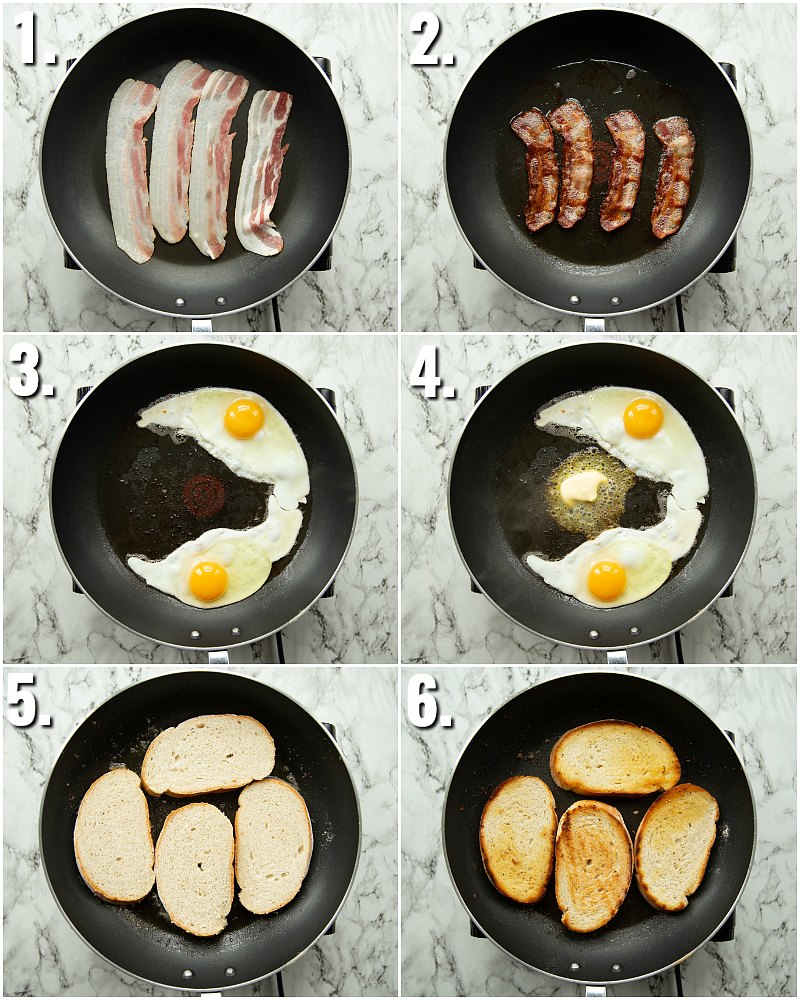 Fried Egg Sandwich
Do I have to make the eggs sunny side up?
Nope! You can have them over easy, medium or hard. I've added a section on that in the recipe card.
What Can I add to a fried egg sandwich?
Alongside the bacon, there's just two ingredients I recommend adding. The first is chilli jam. This balances out the saltiness of the bacon and richness of the butter/egg yolk with a nice bit of sweetness and gentle kick of heat. You'll find chilli jam or something similar in most supermarkets. The second is chives. Chives and eggs are a match made in heaven we're here today to celebrate that!
How do you eat a fried egg sandwich?
Spread chilli jam over toast bread and top with bacon.
Add egg.
Add second egg.
Sprinkle with chives.
Serving a Fried Egg Sandwich
And there we have it! All my top tips for the best fried egg sandwich. If you're looking for a little something on the side too some Cheese and onion flavour go delightfully with this beauty. If you wanna go wild then I love Hash Browns or Parmesan Fries with this to mop up the egg yolk!
Alrighty, let's tuck into the full recipe for this fried egg sandwich shall we?!
How to make a Fried Egg Sandwich (Full Recipe & Video)
The Ultimate Fried Egg Sandwich
Here I give you some simple tips and tricks to creating the most delicious fried egg sandwich imaginable!
Print
Pin
Rate
Text to a Friend
Servings (click & slide):
2
sandwiches
Calories per serving:
553
kcal
Cost per serving:
£2.50 / $3
Equipment
Large Non-Stick Pan & Tongs

Plastic Spatula

Bread Knife

Spoon (to baste eggs)

Scissors or Sharp Knife & Chopping Board (to chop chives)
Ingredients
4

medium slices of

Artisan Bread (or bread of choice)

4

slices of

Bacon

4

fresh

Eggs, at room temp

2

tbsp

Chilli Jam (see notes)

1

tbsp

Butter

1

tbsp finely diced

Fresh Chives
Salt & Pepper, to taste
Instructions
Add your bacon to a large pan over low-medium heat. Fry low and slow to render down the fat and cook until nice and crispy. Remove from pan and leave the fat. Raise heat to a medium.

Carefully and close to the pan, crack in two eggs (make sure they're spaced out). Add in butter and begin basting the egg whites. This will not only help cook the tops of the eggs, but also wrap them in all the gorgeous buttery/bacony goodness. Don't baste the yolk, you want that runny. Season with salt and pepper.

Once all of the white on both eggs are completely opaque, remove eggs from pan and crack in your second two. Repeat then remove again.

Lay your slices of bread in the pan and toast each side in the leftover oil.

Stack the sandwich in the following order: bread, chilli jam, bacon, fried eggs, chives and bread. Enjoy!
Notes
a) Chilli Jam - This is a really key part of the sandwich. It balances out the saltiness of the bacon and the richness of the butter/yolk with a little sweetness and tingle of spice. You'll find it in almost all supermarkets, grocery stores or even farmers markets. b) Over easy, medium or hard - You don't have to make sunny side up eggs, you could make them over easy. To do that it's the same process up until the egg whites being NEARLY cooked. Once they're all cooked (a little ring of uncooked white around the yolk) flip them over and cook for another 30 seconds or so. For over medium or hard just flip them sooner and cook longer on the flipped side until the yolk if to your preference. c) Calories - per sandwich:
Your Private Notes:
Nutrition:
Nutrition Facts
The Ultimate Fried Egg Sandwich
Amount Per Serving
Calories 553
Calories from Fat 316
% Daily Value*
Fat 35.14g54%
Polyunsaturated Fat 2.699g
Monounsaturated Fat 5.022g
Cholesterol 379mg126%
Sodium 620mg27%
Potassium 476mg14%
Carbohydrates 34.76g12%
Protein 22.97g46%
Vitamin A 725IU15%
Vitamin C 2.6mg3%
Calcium 124mg12%
Iron 3.61mg20%
* Percent Daily Values are based on a 2000 calorie diet.
*Nutrition is based on the absence of salt unless stated as a measurement in the ingredients. Cost is worked out based on ingredients bought from UK supermarkets, then divided by the number of servings. In both instances these values are just for guidance. Please check out my FAQ Page for more info.
---
For another delicious Egg Sandwich Recipe check out my Egg Mayo Sandwich!
For more similar recipes check out these beauties:
Egg Breakfast Sandwiches
---
If you loved this Fried Egg Sandwich Recipe be sure to Pin it for later! Already made it or got a burning question? Give me a shout in the comments below!