Here I'll show you the most iconic, traditional and weird sandwiches us Brits can't get enough of!
If there's one talent Brits have, it's shoving literally anything between two slices of bread and making it look appetizing. Today we're diving into some of the weird, wonderful and delicious sandwiches us Brits love to chow down. Follow me…
---
1. Bacon Butty
An absolute staple in British households, and can't frankly there's no better way to start the day! There's controversy on which type of ingredient to use, but the groundwork consists of nothing more than bread, butter, sauce and bacon.
---
2. Chip Butty
From one butty to another, if you haven't shoved your chips between two slices of buttered bread, you haven't quite lived. Carbs between carbs? Heck yes!
---
3. Coronation Chicken Sandwich
Coronation chicken, in my opinion, is nothing short of a British delicacy. Skip the store bought tub and make your own!
---
4. Marmite Sandwich
They do say you either love it or hate it. But by adding cheese and toasting the sandwich there's no way you won't love it!
---
5. Fish Finger Sandwich
Whether you're team tartar sauce or team ketchup, there's no disputing the deliciousness of crispy, salty fish fingers wedged between buttered bread. Even better when you make your own fish fingers!
---
6. Crisp Sandwich
Yes, really. What can I say? There's truly nothing we won't put between two slices of buttered bread!
---
7. Cheese and Pickle Sandwich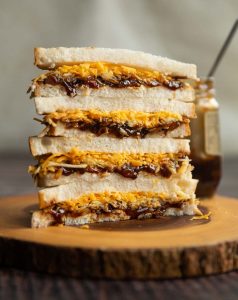 And not the pickle you're thinking. I'm talking Branston Pickle, a pickled vegetable chutney. Paired with cheese inside a sandwich? Stunning.
---
8. Toasted Baked Bean Sandwich
Is this the most traditional thing in Britain? No. But, cheesy beans on toast absolutely is. Here's the older more attractive friend beans on toast told you not to worry about.
---
9. Sausage Sandwich
Us Brits love a banger and a sausage sandwich illustrates that perfectly. Just like the bacon butty, there's always controversy over the construction of this sandwich, but here's how I like mine:
---
10. Cheese and Onion Sandwich
No supermarket meal deal section is complete without a cheese and onion sandwich. It's so easy to replicate at home!
---
11. Pigs in Blankets Sandwich
Pigs in blankets aren't just for Christmas my friend! And yes, that is gravy dripping out of the sandwich…
---
12. Haggis Sandwich
Haggis is a Scottish classic that works tremendously in a sandwich!
---
13. Pot Noodle Sandwich
I think this one will even offend my fellow Brits 🤣
---
14. Homemade Jam Sandwiches
If a classic jam sarnie doesn't take you back to your school lunchbox days, I don't know what will!
---
15. Prawn Mayo Sandwiches
An absolute classic option for a meal-deal, and they couldn't be more simple to make at home.
---
16. Classic Cheese Sandwich
A staple for school lunches, picnic, parties and lazy lunches!
---
And there we have it! A taste of the weird and wonderful world of British Sandwiches. If you loved this Roundup be sure to Pin it for later! Made any of the recipes? Let me know how you got on in the comments 🙂