A collection of fun, easy and DELICIOUS leftover chicken sandwiches!
There's a million and one ways to use up leftover rotisserie or grilled chicken, but in my opinion, no easier and more delicious way than in a sandwich. Maybe I'm slightly biased given the name of my site, but a leftover chicken sandwich is one of the most glorious things in life. Here I've rounded up some of the most creative and delicious chicken sandwich recipes for your viewing pleasure.
Don't have leftover chicken on hand but still want a chicken sandwich? Check out my foolproof way to perfectly roast a chicken!
Cue – 8 Delicious Leftover Chicken Sandwich Recipes.
---
1. Chicken Salad Croissant Sandwich
Wait, you've never served your chicken salad in a croissant before?! This is simply the best chicken salad in the world. Just sayin'
---
2. Chipotle Chicken Grilled Cheese Sandwich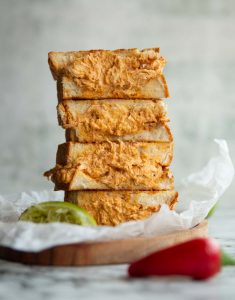 The most delicious way to spice up your regular grilled cheese!
---
3. Coronation Chicken Sandwich
An absolute British classic that's SO easy to make!
---
4. Chicken Waldorf Salad Sandwich
The classic Waldorf salad transformed into a delicious chicken sandwich!
---
5. BBQ Chicken Grilled Cheese Sandwich
Sweet, sticky, spicy, cheesy and outrageously delicious – This BBQ chicken sandwich has it all!
---
6. Chicken Bacon Ranch Sandwich
Because really, whats chicken without bacon and ranch?! 😛
---
7. Buffalo Chicken Grilled Cheese Sandwich
A buffalo chicken sandwich like no other – this grilled cheese has it all going on!
---
8. Classic Chicken Mayo Sandwich
The traditional way to make a classic chicken mayo sandwich.
---
And there we have it! The ultimate leftover chicken sandwich recipes your tastebuds are going to thank you for. If you loved this Roundup be sure to Pin it for later! Made any of the recipes? Let me know how you got on in the comments 🙂