These grilled cheese tricks will change the way you make grilled cheese sandwiches forever!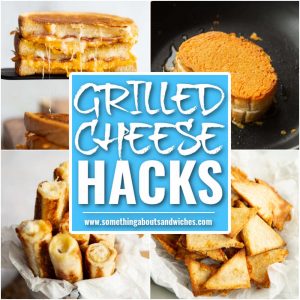 Is there anything more satisfying in life than a darn good grilled cheese? Well, today we're going to discuss some ways that you can make a good thing great. These easy tips are absolutely perfect for upping your grilled cheese game! Follow me…
---
1. Grilled Cheese Roll Ups
This hack was my first viral video on TikTok, currently sitting at 9.5 million views! Easy to make and perfect for dunking in soup, you're gonna love 'em.
---
2. Inside Out Grilled Cheese
Cheese on the inside AND the outside? Yes please! You get that perfect textural contrast too, with the gooey good stuff in the middle with an extra crispy outside.
---
3. Grilled Cheese Chips
Tortilla chips were so last year. Yes, these are actually mini grilled cheese sandwiches!
---
4. Double Decker Grilled Cheese
For when one grilled just ain't quite enough! Easy, versatile and all made in the same pan.
---
5. Air Fryer Grilled Cheese
An air fried grilled cheese comes out ultra crispy yet still nice and gooey in the centre!
---
And there we have it! I hope you enjoyed these easy grilled cheese hacks. If you loved this Roundup be sure to Pin it for later! Made any of the recipes? Let me know how you got on in the comments 🙂