These Southern Fried Halloumi Fries are ultra crispy on the outside, soft and fluffy on the inside and BURSTING with flavour all over!
This recipe is where two of the best worlds collide. Halloumi fries + fried chicken = heaven. Ready to make the best halloumi fries in the world? Follow me…
Halloumi Fries
Typically to make halloumi fries you'd just slice up halloumi and either pan fry it or deep/shallow fry it. Some recipes lightly dredge it in flour for a little extra crispiness, but that's usually where it ends.
For me these options leave the fries a little lacklustre. I mean, if you're going to go out your way to deep fry them, you may as well go all out. Hence why I treat my halloumi fries exactly how I treat my chicken.
Buttermilk Marinade
All good fried chicken starts with a buttermilk marinade, and these halloumi fries are no different. Whilst the marinade doesn't tenderize the halloumi as it would chicken, it's still a good opportunity to wrap the halloumi in flavour. Plus, buttermilk has the perfect consistency for dredging through flour to build up a nice thick crust.
How long to marinate for?
Because this step isn't so much about changing the texture of the halloumi, marinating time is somewhat optional. I usually marinate for 30mins – 2 hours. But even just as you prep the other ingredients will be fine.
Process shots: pat halloumi dry (photo 1), slice into fries (photo 2), pour buttermilk into bowl (photo 3), whisk in spices (photo 4), add halloumi fries (photo 5), mix to coat (photo 6).
Extra Crispy Halloumi Fries
Here's the important part – the halloumi coating. You want to build up an ultra crispy crust to counteract the soft, squidgy halloumi. Here's 3 tips to help build the crispy crust:
Baking Powder – Adding baking powder into the flour causes a reaction in the oil to produce lots of tiny bubbles. In turn this helps create an airy batter. The more airy the batter, the crispier it is.
Add Marinade – A sneaky tip is pouring a couple of tbsp of the marinade in the flour BEFORE you coat the fries. By rubbing the marinade into the flour you create lots of tiny little flakes. The more of these flakes that attach themselves to the fries the crispier they'll be.
One by one – Don't tip all the fries into the flour at once, this will cause them to go sludgy. Coat them one by one and really try and work in as much of the flour as possible.
Process shots: add flour to shallow dish (photo 1), stir in spices and baking powder (photo 2), rub in some of the marinade (photo 3), one by one coat the fries (photo 4).
Deep Fried Halloumi
Can you bake the fries and still get them to come out crispy? In my experience – no. It's gotta be deep frying all the way.
The great thing about this recipe though is it's great for beginners, in as much that you don't run any risk of undercooked chicken. You'll want to deep fry in batches, but if you're not confident just start with one halloumi fry. The fries are done when the halloumi is nice and soft and the batter is deep golden and visibly crispy.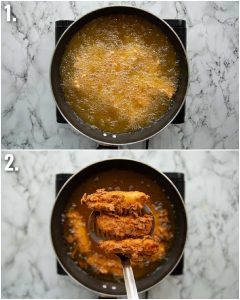 Serving Halloumi Fries
I usually sprinkle over a pinch of salt, just to bring out the spices in the batter, but also to draw out the final bit of moisture from the batter. Halloumi is quite salty so I only season the marinade/flour lightly with salt, then just adjust at the end.
I tend to serve these as you would fried chicken wings. Usually as they are with a dip (here I use chipotle mayo), but they also go great as a side to a sandwich! Usually with my Fried Chicken Sandwich (or Spicy Fried Chicken Sandwich), mainly because I've already got the deep fat fryer out and ready!
Alrighty, let's tuck into the full recipe for these halloumi fries shall we?!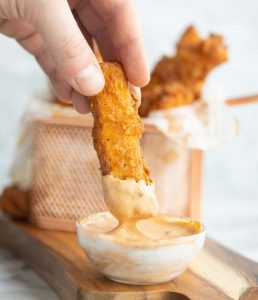 How to make Halloumi Fries (Full Recipe & Video)
Southern Fried Halloumi Fries
These Southern Fried Halloumi Fries are ultra crispy on the outside, soft and fluffy on the inside and BURSTING with flavour all over!
Print
Pin
Rate
Text to a Friend
Servings (click & slide):
4
Calories per serving:
598
kcal
Cost per serving:
£2 / $2.50
Equipment
Large Mixing Bowl (for marinade)

Large Shallow Bowl (for dredging)

Pot & Slotted Spoon (for deep frying)

Kitchen Thermometer

Sharp Knife & Chopping Board

Wire Rack & Paper Towels or Tray
Ingredients
Marinade
1 1/4 cups / 300ml

Buttermilk (see notes)

1/2

tsp EACH:

Paprika, Cayenne Pepper, White Pepper, Onion Powder, Garlic Powder

1/4

tsp

Salt
Halloumi Fries
2x

9oz / 250g blocks of

Halloumi, sliced into wedges around 1/2" thick

1 1/2 cups / 225g

Plain / All Purpose Flour

2

tsp

Paprika

1

tsp EACH:

Oregano, Baking Powder, Onion Powder, Garlic Powder, Salt plus more salt to serve (optional)

1/4 - 1/2

tsp EACH:

Cayenne Pepper

1/4

tsp

Black Pepper

4 cups/1litre

Vegetable Oil, or as needed for deep frying
Instructions
In a large mixing bowl combine buttermilk, paprika, onion powder, garlic powder, cayenne pepper, salt and white pepper. Mix in halloumi wedges and leave to marinate as you prep the next step. I like to leave mine for 30mins+ to soak in the flavour, so do that if you have time.

In a large shallow dish whisk together flour, paprika, baking powder, oregano, onion powder, garlic powder, salt and black pepper. Scoop out 2 tbsp of the marinade and stir into the flour until lots of little lumps form. This will give you those flaky/crunchy parts.

One by one dunk the halloumi wedges into the flour and use your hands to fully coat them. Try to press the flour into the halloumi and use the excess buttermilk to form those flaky bits. That's what will give you the crunch. Place on a wire rack to one side and repeat with remaining halloumi wedges.

Heat up enough oil to comfortably cover a batch of fries to around 180C/350F. In batches of 2-3 deep fry the halloumi until deep golden and visibly crispy. Remove with a slotted spoon and place on a wire rack with paper towels or a tray underneath to catch excess oil. The heat will drop slightly but just maintain it as best you can, bringing it back up to 180C/350F before each batch.

Sprinkle with salt (optional) then serve up with your favourite dip!
Notes
a) Buttermilk - You'll find this in most stores in the milk/cream section. If you can't find it you can make your own by combining 1 cup milk with 1 tbsp acidity (lemon juice, white vinegar). Leave it 10mins to slightly curdle then use as needed.
b) Marinating - I recommend marinating the fries for 30mins-2hours, just so they can soak up some of the flavour. The buttermilk will also help soften the halloumi slightly. Not a deal breaker though. A fair bit of the marinade sticks to the halloumi as you dredge.
c) Dip - I serve these with Chipotle Mayo, but use whatever dip you fancy! 
d) Salt - Halloumi is quite salty, hence why it's only 1/4 tsp salt in the marinade. Start off conservatively and if you need to adjust it just sprinkle more over at the end.
e) Calories - Rough estimate, but assuming 1/2 tsp oil is soaked up per fry (16 in total), 3/4 of the flour attaches and 1/2 the buttermilk attaches. Calories for 1 serving (4 fries).
Your Private Notes:
Nutrition:
Nutrition Facts
Southern Fried Halloumi Fries
Amount Per Serving
Calories 598
Calories from Fat 349
% Daily Value*
Fat 38.83g60%
Saturated Fat 18.782g
117%
Polyunsaturated Fat 6.408g
Monounsaturated Fat 10.684g
Cholesterol 104mg35%
Sodium 1560mg68%
Potassium 202mg6%
Carbohydrates 29.17g10%
Protein 32.49g65%
Vitamin A 1122IU22%
Vitamin C 0.1mg0%
Calcium 691mg69%
Iron 2.11mg12%
* Percent Daily Values are based on a 2000 calorie diet.
*Nutrition is based on the absence of salt unless stated as a measurement in the ingredients. Cost is worked out based on ingredients bought from UK supermarkets, then divided by the number of servings. In both instances these values are just for guidance. Please check out my FAQ Page for more info.
---
If you loved this Halloumi Fries recipe be sure to Pin it for later! Already made it or got a burning question? Give me a shout in the comments below!